About the Farm
Rulon Enterprises is a family farm located in Arcadia, Indiana, that continues a seven-generation tradition of sustainable and environmentally responsible farming. Originally homesteaded in 1869, the farm has persevered through many good and bad times by constantly focusing on our core business of sustainable crop and livestock production. Since the early 1960s, brothers Jerry and Doyle Rulon operated the farm. The next generation – Ken, Roy, and Rodney – now operate the farm. One of the farm's objectives is to increase the organic matter content of the soil while still maximizing profits.
Rulon Enterprises was honored by the American Soybean Association with the 2012 National Conservation Legacy Award in a ceremony in Nashville, Tennessee. Please visit this link at Corn and Soybean Digest to learn more about our conservation practices.
---
Meet the Owners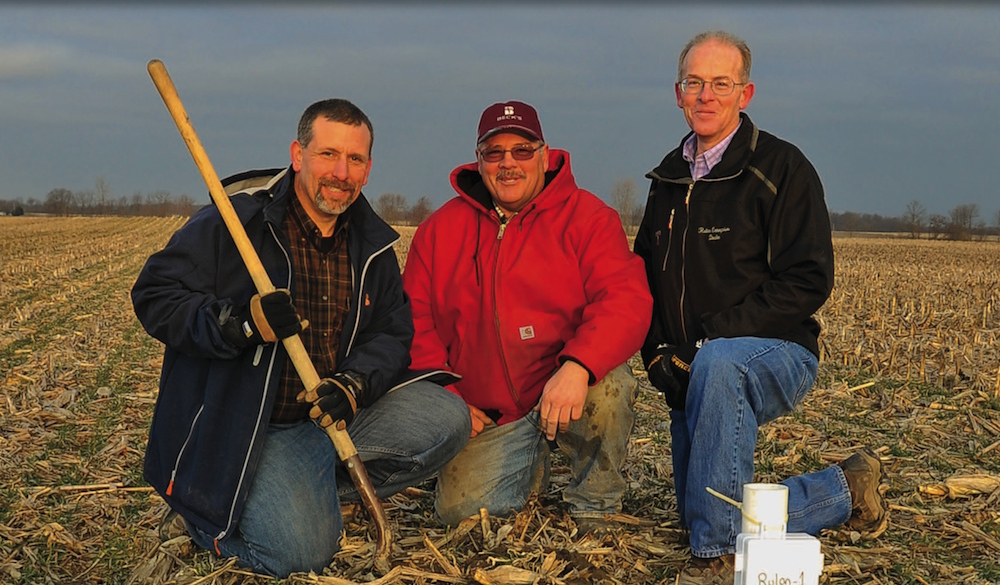 Roy Rulon
Roy Rulon was raised on the family farm near Arcadia, Indiana. He earned his Agricultural Production Techniques degree from Michigan State University in 1982. Roy and his wife Jamie returned to the farm in 1982 and purchased their share of the family farm in 1987. He served as a volunteer firefighter for the White River Township Volunteer Fire Department for eighteen years.
Roy's areas of expertise include equipment maintenance and purchases, weed and pest control, fertilizer application, and coordination of the day-to-day activities at the farm.
Roy enjoys spending time with his wife Jamie sitting by the pool and following NASCAR. They have two sons, Nick and Neal, who both work on the family farm.
---
Ken Rulon
Ken was raised on the family farm near Arcadia, Indiana. He earned his Agriculture Economics B.S. degree with honors from Purdue University in 1982. After college he spent 10 years out of production agriculture, ending his non-farm career as a Marketing Manager for the Plastics Business Group of General Electric.
Ken and his wife, Jane, purchased a share of the family partnership and returned to the farm in 1991. Named Top Producer Magazine's "Best Farm Marketer" in 1993, he was also selected a Distinguished Agricultural Alumnus of Purdue University in 2003. Ken enjoys writing magazine articles and speaking to farm groups concerning risk management, production technologies, and managerial cost control. Ken researches and writes the farm's risk management plan that is shared in the subscriber's section of this website. Recent presentations are archived in the subscriber's section.
Ken was selected to represent the agricultural industry on the Indiana State Environmental Rules Board by Governor Mitch Daniels in late 2012.
Ken and Jane, representing the entire farm, were named Indiana Master Farmers in 2013. In being so named, they followed in the footsteps of Jerry and Carol Rulon, who were named Master Farmers in 1994.
Together Ken and Jane enjoy spending time at Our Lady of Grace Catholic Church, ballroom dancing, water skiing, or practicing yoga. They have two daughters, Jennifer, a recent graduate of the Indiana University Maurer School of Law, and Kathryn, a Ph.D. candidate in clinical psychology at Miami University in Oxford, Ohio.
---
Rodney Rulon
Rodney Rulon was raised on the family farm near Arcadia, Indiana. He completed his Agricultural Systems Management B.S. degree from Purdue University in 1993, and went on to earn his M.S. degree in Agricultural Systems Management in 1996.
During his time at Purdue, Rodney co-authored five journal publications and completed a Masters Thesis on the storage and conditioning of popcorn at Weaver Popcorn Company.
Rodney returned to the family farm and joined Ken and Roy as full partners in Rulon Enterprises in 1997. He has been responsible for leading the farms development of a production system  focused on Maximum Economic Yield. This approach includes the cost to society of erosion and nutrient leaching.  He manages the farm's drainage system design, soil sampling and fertility, and conservation programs. He continues to develop the farms cover crop program to improve soil health.
Rodney currently serves as President of the Hamilton County Soil and Water Conservation District. He is also a Trustee of the Arcadia Church of the Brethren.
The farm received the No-Till Farmer Magazine's, National No-Till Innovator Award in 2011 based upon Rodney's efforts focused on improving soil health and the economics of conservation production practices.
Rodney and his wife, Tasha, have three children, Dianna, Kaleb, and Claire, who all work on the farm after school. They enjoy fishing, camping, and shooting sports.